2020 Hyundai Sonata: Bolder Than Ever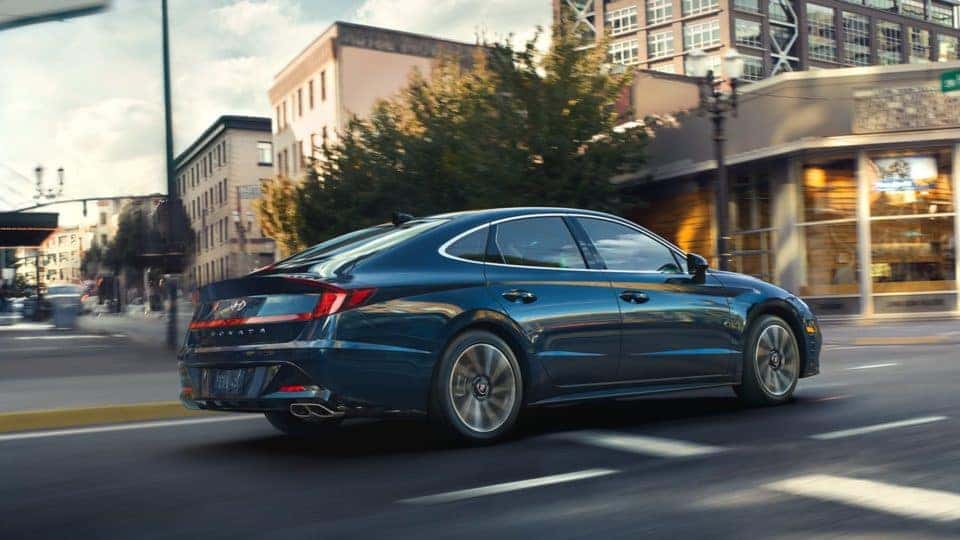 As you're browsing for cars, think about what you're looking for. Is it a stylish exterior? How about unmatched tech features? Or maybe it's a comfortable, modern interior? All of these features, and then some, can be found packaged inside the all-new 2020 Sonata. Since we've only scratched the surface about what makes this car your next necessity, let's dive a little deeper to see what it's all about.
Unbelievable Tech
A huge factor in the car-buying process is what technology is offered in the vehicle. With the Sonata, there's not really really anything it doesn't offer. Starting and unlocking your car has never been easier — now, you can do all of that with the click of a button on your phone. And speaking of your phone, you have access to almost all of your apps right on your screen including text messages and Spotify thanks to Apple CarPlay® and Android Auto. These bells and whistles are great, but the best feature the Sonata offers is the Blind-Spot View Monitor. You never have to worry about not being able to see when you're preparing to merge, because you'll now have a video feed of your surroundings right in front of you!
Reimagined Exterior
The inside of the Sonata is full of features, and thanks to a few upgrades the outside now perfectly matches the sophistication of the interior. The fastback rear design gives the vehicle a sporty edge to it, and the wider 4-door design gives it more of a coupe feel. The 2020 model is lower to the ground and is stretched both longer and wider. There is not a bolder car out there!
You might also like: Invest In A 2020 Hyundai Santa Fe
Comfortable Ride
It's got looks, it's got tech, but does it have… comfort? You bet it does! The interior is chock full of sophistication with available supple leather or Dinamica suede seating options. A 10-inch touchscreen is also available to help you access music and entertainment right before your eyes. Treat your ears to Bose Premium Adio, which offers 360 degrees of pure sound.
Even the pickiest driver or passenger will agree — the 2020 Hyundai Sonata has it all!